In Rome there is a charming building, a renaissance small villa that is able to show a lot of tis original paintings and frescos, made by masters like Baldassarre Peruzzi, Raphael or some of his main assistants. But what is extraordinary here is a room of the second floor where you will be surrounded by illusions and perspectives.
I am at the Farnesina Villa of Rome, which was would by the famous banker and nobleman Agostino Chigi. Let's see it!
It will be really amazing to lean here, on this marble balustrade, observing the streets of Rome and its buildings. It is simply a pity that it is an illusion! The whole room is made of painted architectures, painted architectonical elements and a painted city. Yes, try to see for example the golden capitals or the red columns, but even the green walls. Everything, here, is just a painting, nothing is carved. The master who designed it was Baldassarre Peruzzi, a man of the renaissance age who perfectly knew how to make something incredible like this hall. The perspective of this place is accurate and detailed. Try to observe the marble floor, for example, which has a specific pattern: green and red squares that alternate each other. Ok, now try to follow this pattern even on the walls, where you will see the same kind of design and floor. The only difference is that it is painted!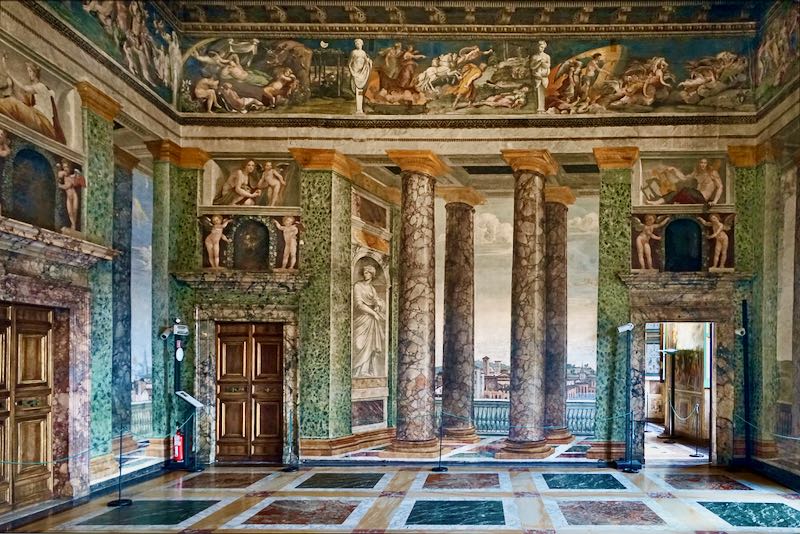 You can understand why this area is called "Room of the Perspectives", an hall that is embellished also with a fresco which runs all around it having small mythological figures. But we have another surprise. In fact, there are not only fake and painted architectonical elements, because they are used to surround a city. Or better, they are surrounding Rome, the Rome of the renaissance age that was painted by the painters of that time, on the walls of the "Room of the Perspectives". On the right, even if it was almost a caricature, we have the Colosseum and a section of an ancient roman aqueduct that really is close to it. But there is something more, because on the wall at the background you can see other painted buildings which are completely…flooded! Why? It is a painted representation of one of the numerous floods that the river of Rome, the Tiber, "offered" to the city. So, according to the chronicles, several times the Eternal City was flooded by the water of the river, which invaded the streets. And don't forget how still today the Farnesina Villa is located close to the Tiber, which today is flanked by huge travertine walls to protect the city.
In some degree, painted on the walls of the "Room of the Perspectives", there is probably something that really happens. Well, really amazing!